Explore Gielinor in the iconic MMORPG now on Mobile!' Still one of the best and biggest sandbox MMOs around, and it's only gotten better with age. There's simply nothing else like it.' – PC GamerOld School RuneScape is RuneScape how you used to know. It was first released in 2013 and is based on RuneScape as it was way back in 2007. It's the only MMORPG in the world that is shaped by its players, with developers releasing new, regular content that has been voted for by the fans!The world's largest and most popular MMORPG, Old School RuneScape has been played by over 260 million players since the 2001 release of RuneScape. Old School RuneScape unites the intricate mechanics of modern MMOs with the nostalgic point-and-click gameplay of early role-playing games.FANTASTIC SUBSCRIBER BENEFITSOld School RuneScape is free-to-play but there are lots of advantages to becoming a subscriber!
More than 18 years in the making and acclaimed by PC Gamer as "one of the most endearing and unique MMOs available", RuneScape is an. Discover the world of Gielinor in RuneScape Mobile. The world largest and most popular MMORPG is back on your smartphone. The PC-version of RuneScape has been played by over 260 million players since the release in 2001. Jagex made an all new mobile experience, available for all players from 30 October 2018. The closed beta.
Subscribers get access to:.A world map that's 3x larger.8 additional skills.Loads more quests.400 extra bank account slots.And lots, lots more, all for one monthly cost!CROSS-PLATFORM GAMEPLAYAdventure anywhere with an innovative cross-platform approach to mobile gaming, which is truly revolutionary among MMORPGs. Whether you play with mobile or desktop, you'll be playing on the same account on the same game worlds.COMMUNITY LEDIn Old School RuneScape players decide what new content to vote on. If a proposal is voted for by 75% or more of players, then the developers will add it to the game!Over 1,000 questions have been polled since Old School RuneScape was released in 2013. That's over 1,000 decisions players have made to help shape the game.CHOOSE YOUR OWN PATHPlay as the lone adventurer seeking glory through individual challenges, or band together with other heroes to leave your mark on the game.
With 23 skills to master, hundreds of lore-filled quests, and dozens of unique raids and bosses to defeat, Old School RuneScape has a challenge for everyone.EXPLORE GIELINORBe the first to traverse Fossil Island and uncover its lost history. Map the heated tropics of the Karamjan jungle, and brave the barren wastes of the Kharidian desert.HUNDREDS OF QUESTSOld School RuneScape's many lore-rich quests combines epic puzzles and enchanting narrative with the nostalgic humour of point-and-click adventures. Rediscover the secret to rune magic, uncover the mystery behind the devastating plague in West Ardougne, or help Yanni Sallika with just one small favour.FIGHT EPIC BOSSESBattle through two extraordinary raiding encounters: the Chambers of Xeric, and the Theatre of Blood. Undead dragons, volcanic monstrosities, and tyrannous vampyres await all challengers seeing great treasures.We are working hard to deliver a great experience for all of our players but if you are experiencing login or account recovery issues please check the Support Centre page, dedicated to issues Mobile players may have: School Mobile FAQsubscription will be charged to your iTunes account, or at the end of your trial period if eligible.
Subscriptions will automatically renew unless cancelled within 24-hours before the end to the current period. You can cancel anytime with your iTunes account settings. Any unused portion of a free trial will be forfeited if you purchase a subscription.Privacy policy: and conditions: Internet connection required. Minimum supported iOS version: 10.0.
Compatible with iPhone 5S, iPad Air and above. TheWorldmind, Best mobile game everI have played Runescape on and off since I was a teenager(28 now). I always loved the game, but couldn't play as much as I wanted since I have had kids now. Big mutha truckers intro.
I loved when they brought out osrs because that was the game I fell in love with. I play when I can and work on grinding here and there, but this coming out on mobile is the best thing that could have happened for me now as an adult. It is the full game just as it is on PC and it's the same character I have on PC. I can log in on either device.The mobile game controls really well.
I wasn't sure about the camera controls at first, but you can adjust the look speed and slowing it down made things feel better for me. I like that they have the screen control options on the left side allowing you to one-tap or always right click as it is on PC or tap to drop. This makes it to where I am pretty comfortable doing almost anything in the game from my phone. I don't think I would do PKing on mobile, but I was never much of a PKer anyway. I have done quests, trained Melee, magic, done farm and birdhouse runs and had no trouble with any of it.Being able to play this game from my phone anytime I want is amazing.
It's even better on my iPad. The 1 star reviews I have seen are nonsense. People who don't understand the game and get mad way too easy.
From someone who has played osrs for years and understands the game this is really great on mobile. BrungusWasTakenLol, A large amount of the bad reviews are uninformedAfter looking through about a hundred of the 1 star reviews i saw that a very large percentage of them were people upset about the progress of their characters they made a decade ago not transferring over. What they don't understand is that jagex re-released oldschool runescape in 2013 and everybody needed to start from the beginning if they wanted to play. Their old accounts are still available to them on the "main" game. This is the oldschool version and the reason they are upset does not at all reflect the quality of this app.Oldschool runescape is a fantastic game which has been massively growing since its birth in 2013. Against all odds the outdated graphics and grindy gameplay has thrived in this generation of video games which are typically the opposite. If you're looking for a mobile game with flashy graphics and an instant gratification gameplay loop giving you rewards every 15 seconds to keep you interested and offering you the ability to skip the gameplay for small amounts of real life money, then this isn't the game for you.
It is old runescape (the pinnacle of last generation MMOs) in all of its glory.Oldschool runescape has the best gaming community out there and is run by an extremely dedicated developer team who update the game almost 100% based on player feedback. Anybody who hasn't given it a try is very much missing out. TheJerry(:, Ignore the poor reviews1) Ignore all the poor reviews giving to this game. Especially JaredL42 guy. If you're an old player coming back, don't expect to have you old account saved.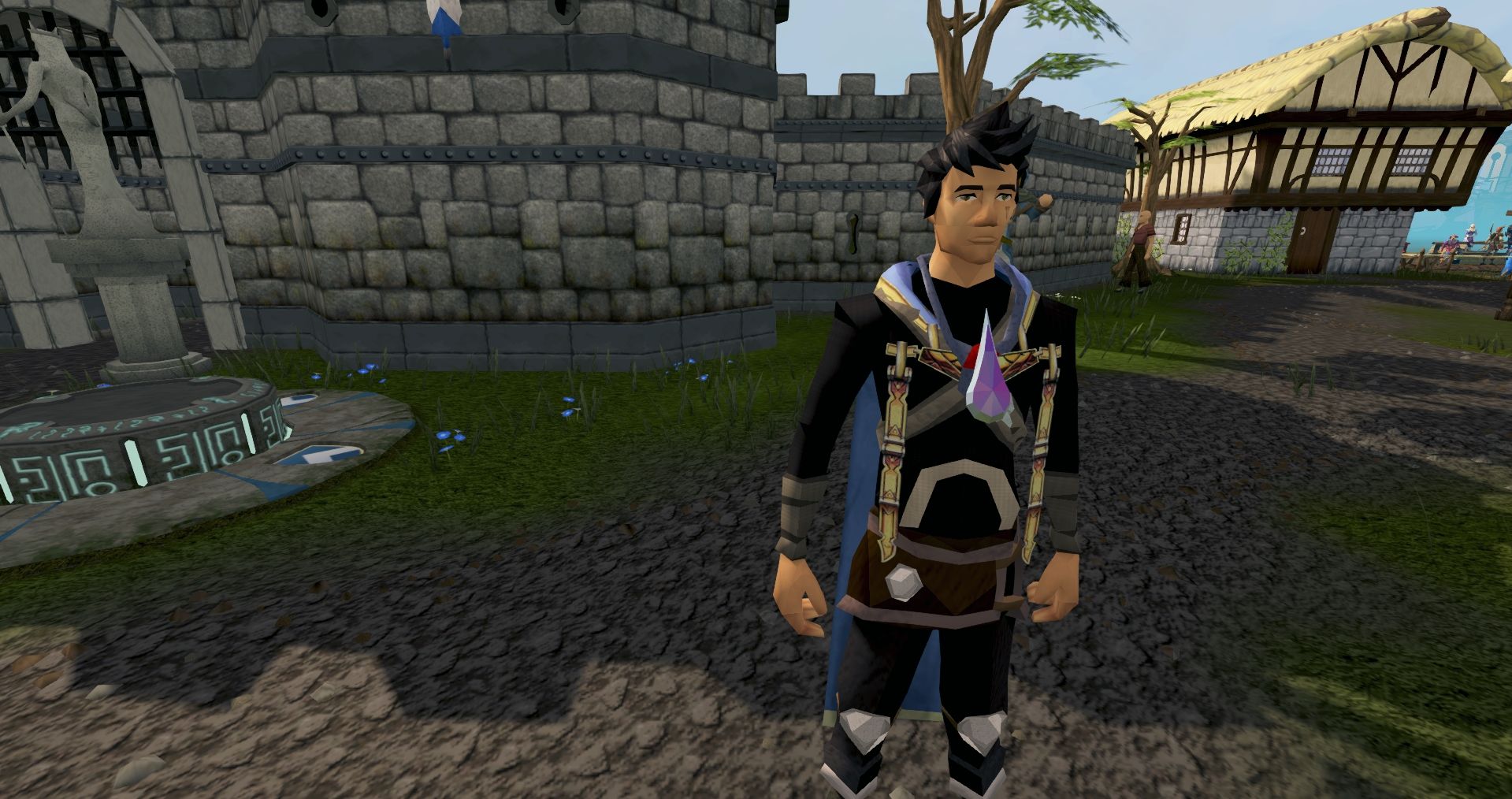 OSRS evolved over the years to what is now known as RuneScape3 (RS3) that's where your old account is. Due to high demand of bringing back the old school RuneScape. Jaggex had to Re-create separate game (osrs) for the community to try save the player base. People were happy OSRS was back and that's what they prefer to play while others enjoy playing RS3. So there for you have to start over for OSRS while your old account is still in RS3. Stop complaining and don't listen to those whining spoil kids.2) If you're a veteran or returning player this is an awesome app!
Great way to AFK training or even to kill time. There's definitely things you wouldn't want to do on mobile like PK'ing or maybe even raising against hard bosses. Just because it's a little harder on mobile.3) if you're a new player this may take time to get use to, I'll recommend to try the full experience on PC for you to get the full feel of the game then come to mobile.
Because I do see mobile more beneficial to veteran players. Don't get frustrated with the game, it's an mmorpg there's so much to do in this game and it takes time to learn.Overall I'm very happy with the work they have done!!
CompatibilityRequires iOS 10.0 or later.